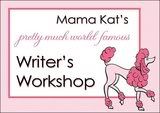 WRITER'S WORKSHOP: 1. Write about an experience you have had with a celebrity.
My experience's with celebrities are pretty boring compared to my sister who had an encounter once with Prince that I am compelled to share!
It was 1988 during Prince's Lovesexy years and he was in town with
Sheila E
and
Cat.
You remember Cat she was the dancer running around on stage with Prince. I saw this concert and she was with him every exhausting dance step of the way (I wanted to be her). Anyhow, my sister was at New York's famous night club Nell's one night and she bumps into Prince, she uncontrollably grabbed his buttocks because his yellow cheeks where hanging outside of his leathery black chaps:) She smiled at him with glee, Prince looked her up and down raised his manicured eyebrow, then smiled back with approval and kept moving through the club with Sheila and Cat. I said to her, "You know your lucky he didn't have your
Appolonia
looking but thrown out of Nell's!" She said, "It would have been well worth it because his bottom was deliciously cold and buttery smooth:)