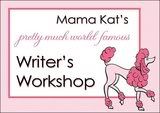 I love Thursday:) This week I choose prompt # 4
Memories of Mom
I posted this story a year ago, I thought in honor of this week's prompt it was perfect to post this story again:)
Pauline was born on July 14, 1933 in the New Lots section of Brooklyn, NY. She was a product of a mixed marriage. Her mother was black
(seated on sand left) and her father was White (see picture on right) and
in the 1933 it was tough to be a bi-racial baby. Back then that wasn't even a term, because any black in you at all meant you were just black, and your birth certificate read
Colored
(see my mothers Birth Certificate below). Not only was she half and half, she was raised as a strict Catholic and to make it even harder her parents moved into a Brownstone in an all Jewish neighborhood. All I can say is that she and her sister Annette had it tough.
Now let me just give you a little history of my grandparents. Now it was told to me, rumor has it my grandmother Margaret Iola Webb was engaged to
Thurgood Marshall
. One night while attending the Opera in NY my grandfather Joseph Youvino was singing on stage (at
The
Metropolitan Opera House
don't forget this is what I was told). Apparently she wanted to be introduced to him, they meant back stage and fell in love. She dumped Mr. Marshall and married my grandfather who gave up the entertainment business for her and settled down to start a family. He opened a cleaning business in Brooklyn. In this picture my grandmother MaMa Margaret, my mother on the right and my Aunt Annette on the left in front of their home in 1939.
My grandfather PaPa Joe loved his family very much. I can't even begin to understand the depths of his love. My grandfather Joseph came over to this country in 1918 and went straight to Ellis Island. He was forced to leave his family in Italy forever once they heard of his marriage to a black woman. Joseph's love for Margaret and his daughters was so strong; he would give the world to be with them forever (below my mother seated, her sister standing on the right).
My mother endured so much pain and ridicule all her life. However, She never let the color of her skin stop her from her dreams and aspirations.
By the age of 18 she became a full time concert pianist (see picture below) playing all over the Metro area!
When she turned 19 she fell in love and decided that she wanted to get married and start a family. The road she traveled through the years was not easy. For some reason that I'm sure I will never understand her and her mother never spoke to each other until her mothers death in 1981. My mother told me she had been abused by her mother (I could never tell that from her pictures) and to make matters worse her first husband was a crazed out shell shocked
World War 2
victim. The stories in my family are endlessly long screenplays so, I will just leave it alone for now.
She always looked beautiful in her pictures she never once let on that she experienced so much pain. She showered my sister, my brother and myself with unmeasurable love!
In her lifetime she had the opportunity to abandon her blackness and live very comfortably hidden behind the color of her skin but, my mom loved and embraced both sides of her heritage. She marched during
the Civil Rights movement
carrying her signs, and was extremely active in her community in DC!
By 1966 she was on her own walking away from a failed first marriage and a common law wife to another. She was working 3 jobs to support her 3 children. My mother was a full time registered nurse and I think her other two jobs were in clerical. We lived in a 1 bedroom apartment in Teaneck, NJ and we shared so much joy. In 1967 she meant and married my step dad; he afforded her comfort and peace. She was a stay at home mom my whole life and everyone that knew her loved her she was infectious! She was extremely active in our schools and ran my fathers business while we were growing up.
I never realized just how many people loved and respected my mother till the day of her funeral and we had to have police escorts in the front and back of the processional; there were just so many cars. My mother loved the Lord her whole life and she was blessed. I know now that she is with God and she is watching over her family.
Sometimes I can hear her voice whisper to me on the back of my nights dreams and she tells me that everything will always be alright
!
I love you Mommy, Happy Mothers Day